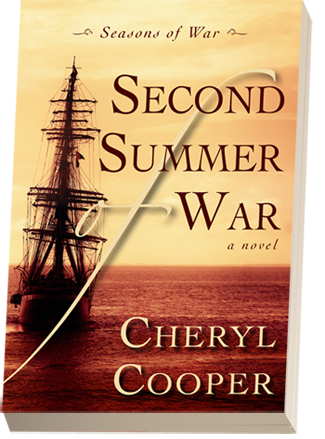 With the British traitor Captain Thomas Trevelyan incarcerated on a prison hulk in Portsmouth Harbour, Princess Emeline "Emily" Louisa sails back to England and is summarily dispatched to Hartwood Hall, home of the disagreeable Duke and Duchess of Belmont. There she endures weeks awaiting Trevelyan's trial, unable to leave the estate or find useful occupation. Relations with her guardians, chilly at best, soon escalate into a battle of wills when they attempt to marry her off in order to secure favour with her uncle, the Prince Regent. Meanwhile, England's naval war with the United States continues to rage on the Atlantic.
When Fly Austen and his friend, Dr. Leander Braden, are given Admiralty Orders to testify at the trial, they return home with the hope of seeing Emily one last time. Their journey is anything but uneventful as they encounter devastating storms, menacing ships, and a spectre that proclaims their impending doom.
Click here to check out Cheryl's first novel Come Looking For Me
---
Purchasing a copy of Second Summer Of War online
To find out more about Second Summer of War or purchase a copy click on one of the links below
Dundurn Press       Amazon.ca       Chapters/Indigo      Good Reading
---
Reader's Reviews
As with Cheryl Cooper's first book, Come Looking for Me, I couldn't put down her sequel, Second Summer of War. The continuing adventures and intrigues of her captivating characters kept me turning those pages, always wondering what was going to happen next. Rich with attention and historical detail, I could hear the unearthly sounds of the sea and feel the decks rocking beneath my feet. Another whirlwind of a read!
–  Nancy Beal, Owner, Muskoka Creative Communications
"…strong supporting characters will keep you rooting for the sailors as they battle extreme conditions on the sea…[and] the naval backdrop makes all the difference. The comprehensive descriptions of the ships, guns, sailors, and medicine of the time make you feel like you are standing on a frigate with the characters."
– Historical Novel Society
Second Summer of War is the riveting sequel to Cooper's first novel, Come Looking for Me, and the second book in the Seasons of War series. Cooper does a masterful job of weaving the details of the first novel into the second…it is meticulously researched and extremely well written. The superbly developed characters draw the reader in to such a degree that while they may be loathe to put it down, they also don't want the book to end.
– Muskoka Magazine
Cheryl Cooper has crafted a compelling sequel to her debut novel "Come Looking for Me", and the years she must have spent on detailed research have certainly paid off. Having waited four years for "Second Summer of War", I was captured at once by her narrative and the smooth transition into the events following "Come Looking for Me". She has woven her fictional story into the fabric of history in a most authentic manner, presenting well defined and consistent characters and as real a portrayal of life, both on land and aboard ship, as is likely to be found anywhere. Mrs Cooper had me on the edge of my seat with her timely shifts of scene, always keeping her characters in the same time frame despite their geographical separation. Her character development has been superb, their actions and words are not always predictable, but are always in keeping with how I imagine them to be, and this is my test of a great novel – I DO imagine them to be! I feel like I'm there with them, watching and cheering them on.
My only lament is that I must now wait perhaps another four years before I can rejoin my friends Emily, Fly, Leander, Gus and Magpie, and share in their trials and triumphs once more. Bravo Cheryl!
–  John Stacey
I was so excited when I found that there is a sequel to Cheryl's first novel "Come Looking for Me' and it doesn't disappoint. "Second Summer of War" is just as action packed and historically interesting as her first book. I'm really looking forward to more novels from this author!!
– Anita MacKinnon
I have to admit that I was skeptical when I learned that Cheryl Cooper was writing a sequel to her 2010 novel, Come Looking for Me. Mainly because I loved how it ended. A character driven piece set on the high seas during the War of 1812, which more or less read like an engaging HBO miniseries. I'm not lying. It was great! But I didn't feel like there was room for any further storytelling. I worried it would just be more of the same…
That said, Second Summer of War is just as entertaining. What Cooper does so intelligently is she adds new locations, which makes for a slew of new dramatic conflict. In fact, half the book takes place on land where Emily is whisked away to live with the unsavory Duchess of Belmont. Meanwhile, the disgraced and treasonous Captain Thomas Trevelyan awaits trial on a haunting prison hulk (personally my favorite bits). Of course there are plenty more battles on the Atlantic, but what makes this book, and series for that matter, so great is that Cooper constantly introduces fresh conflict. And I was willing to go along with her every step of the way because she creates such sympathetic and interesting characters.
The dialogue is cinematic; the situations believable; and the research palpable. How is this not a TV series? It would certainly make for a great one! I now look forward to the next one!! Great read!
– Richard Hope
Cheryl Cooper has written another page-turner with book 2 in her "Seasons of War" series. The well researched historical details create a gripping evocation of the perils at sea as well in the treacherous drawing rooms of the English aristocracy. It was delightful to be among "friends" again as they faced new challenges, and I look forward to sharing their further adventures in book 3.
– Gabriele Wills
A wonderful book. The story had me reading for hours! I was itching to find out the ending, but at the same time, I didn'twant the book to end! I would recomend both of Cheryl Cooper's books to all my friends. So looking forward to her next book!
– Norma Jones