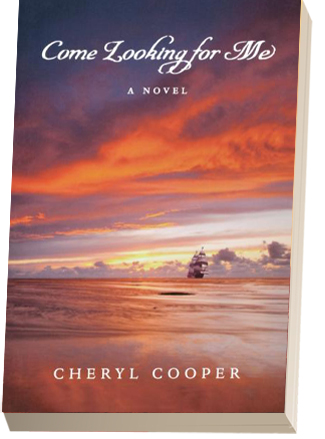 In Come Looking for Me, a mysterious young English woman named Emily risks a crossing of the Atlantic during the War of 1812 for the promise of a new adventure in Canada. But she never arrives.
Captured by Captain Trevelyan, a man as cold-blooded as his frigate is menacing, Emily is held prisoner aboard the USS Serendipity. Seeking to save herself, she makes a desperate escape overboard in the midst of a raging sea battle and is rescued by the British crew of HMS Isabelle. Yet Emily has only exchanged one form of captivity for another, and remains in peril as England escalates its fight against the United States on the Atlantic.
On board the Isabelle, Emily encounters a crew of fascinating seamen and strikes up unexpected friendships, but life on a man-of-war is full of deprivations and dangers to which she is unaccustomed. Amidst heartache and tragedy at sea, she struggles to find her place among the men until a turn of events reveals her true identity. And when Trevelyan's ship once again looms on the horizon, Emily fears losing the only man she has ever loved and falling into the hands of the only man she has ever loathed.
Come Looking for Me is a rich and compelling story of love and courage, friendship and treachery, triumph and loss. With humour and poignancy, author Cheryl Cooper captures all the colour, detail, and excitement of the great ships from the golden age of sail, while bringing to life those who fought upon them. She tells a story of the bravery of the men locked in the epic, brutal struggle that was the War of 1812, and the courage of a woman who, with extraordinary determination, labours to make her own way in life and in love.
Click here to check out Cheryl's second novel Second Summer of War
---
Purchasing a copy of Come Looking For Me online
To find out more about Come Looking For Me or purchase a copy click on one of the links below
Dundurn Press       Amazon.ca       Chapters/Indigo      Good Reads
---
Reader's Reviews
Cheryl Cooper has crafted a novel of epic proportions, incorporating a cast of truly memorable characters. Her meticulous research captures the conditions at sea on a British man-of-war in the early part of the 19th century, and her account of the challenges facing a naval surgeon is particularly engrossing. Written in a flowing, graceful style, Come Looking for Me is a satisfying book that is difficult to put down. A wonderful read!
– Dr. Walter Hannah, physician; former midshipman with the Royal Canadian Navy
Come Looking for Me is a fine offering and unexpected romance set amid the fierce naval battles of the United States and Great Britain during the War of 1812. Cheryl Cooper succeeds in creating an intriguing cast of characters and making us care about their ultimate fate. Her extensive research and detailed descriptions of life on the sea add an unyielding realism to a story rich in action and suspense.
– Anne Millyard, co-founder and former editor of Annick Press
A high sea of a good read, roiling with history, cannon blasts, and storms of the heart…I couldn't put it down.
– Karen Hood-Caddy, author of Tree Fever, Flying Lessons, Wisdom of Water
I just finished reading your book and I couldn't wait to tell you how incredibly much I enjoyed it!!  I'm no literary critic by any stretch of the imagination, but I know a good book when I read one, and yours is well ensconced in the "Good Book" category.  I have read a lot of Steven King over the years, and one of the things I like best about his writing is his character development – I have to tell you that you've done an awesome job (in my humble opinion) of just that – character development.  I felt I knew the people in your story, and now that I'm  finished it I'm going to miss them.  I'm a real old softy when it comes to emotional stories – I watch "It's a Wonderful Life" and "A Christmas Carol" every year, and I cry every year – and I'm not ashamed to admit that I had tears in my eyes at the end of your book.  Keep writing, whatever you do, because I will look forward to your next one!
– John Stacey
Come Looking For Me is beautifully written, historically authentic, rich in characters, dialogue and intrigue. I thoroughly enjoyed it.
– Dianne Turnbull
Come Looking For Me is a rollicking good yarn of adventure on the high seas.  The story's protagonist, Emily, took me back to my days as an undergraduate and reminded me of Thomas Hardy's, Tess.  The two characters do come from socio-economic classes that are polar opposites and their eventual fates are much different; however, the reader empathizes with them, wants to rescue them from their circumstances and falls in love with them.  Come Looking For Me is a very good read that is difficult to put down and leaves the reader wanting more.  Well done!
– John Wenek
What a ride! I'm happy to finish the book to find out how it all ends, but sad that I'm finished with the joy of reading this page turner!
It was fabulous – a great adventure, great writing, interesting characters. Magpie's request to "come lookin' fer me too" at the end made me feel we'd gone full circle back to the first page. And Fly's gift of Pride & Prejudice completes the Jane Austen circle as well.
I can hardly wait to find what other adventures await Em on her next journey!
– Nancy Beal
I have just finished "Come Looking for Me" and I loved it.
I enjoyed Emily's character as a compassionate but strong willed 'modern for her times' woman who seemed to thrive on her unpremeditated adventure amid the War of 1812. She reminds me very much of Elizabeth Bennett of 'Pride and Prejudice', since Jane Austen's novel 'Sense and Sensibility' had been mentioned numerous times – the similarity of character to 'Pride and Prejudice's' Elizabeth Bennett came to my mind, without the candid sometimes caustic comments that Jane Austen gifted Elizabeth with, but with the same strength of self preservation.
You brought the characters of Magpie, Fly Austin, Gus Walby, Biscuit and Leander Braden to life so well that in some sections of the book, I could imagine what they were going to say/do next.
– Deb Devlin-Adams
With all my travels of late, I finally finished Cheryl's novel last night and wanted to feed back to her how much I enjoyed it.  I found it hard to put it down and loved how the opposing forces came together for the climactic sea battle.  It is a gripping story with every chapter leaving you wanting more. I found that it was written in the style of a classic novel like Mutiny on the Bounty and Tess of the d'Urbervilles. Come Looking for Me is truly a modern classic.
– James P. Doherty