2021 News and Event Galleries
---
Upcoming Events in May and June
Monday, May 24, 2021 -- June Issue of Unique Muskoka hits the newsstands. Cheryl's article "Journals Embrace the Past" on page 64.
Friday, May 28, 2021 -- Cheryl interviewed by Huntsville Doppler reporter Dale Peacock on "20 Years of Muskoka Novel Marathons." (Article publication date TBA)
Thursday, June 24, 2021 -- Author Panel, "20 Years of Muskoka Novel Marathons" at 7:00 p.m. Link to Author Panel video on Facebook
2020 News and Event Galleries
---
Having had my entire year of speaking engagements & literary events either cancelled or postponed, it was wonderful to be invited to participate in the Muskoka Chautauqua Author Panel yesterday along with Audrey Jolly, Lynne Golding, Lloyd Walton and moderator Norah Fountain. A big thank you to Gayle Dempsey and Gary Froude for organizing such a terrific event. Such a lovely, fun day in the sunshine in Windermere by the lake!
2019 News and Event Galleries
---
CSL Laurentian
There is nothing more heartwarming for an author than hearing from readers that enjoyed their books! Imagine how wonderful it was to discover that certain crew members (the Captain included!) of the CSL Laurentien, a real life cargo ship that plies the waters between Canada and the USA, carrying salt, coal and iron ore ... are fans of Emily, Magpie, Prosper, Biscuit, Jim Beef, etc.!! Thank you, Julie, for getting in touch with me and making my day! Can hardly wait to visit all of you in the spring!!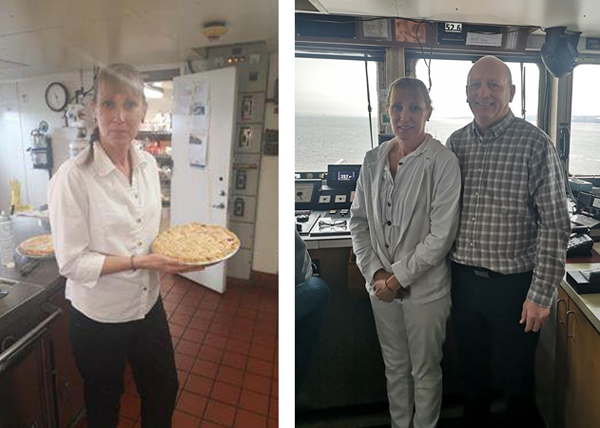 Storylines Interview
Cheryl recently did a Hunter's Bay Radio "Storylines" interview with host Christine Cowley. Cheryl talks about her latest novel, Run Red with Blood, her Seasons of War series, the Muskoka Novel Marathon plus a quick look at upcoming books.
Here is the podcast link for Cheryl's interview.  Storylines Interview Podcast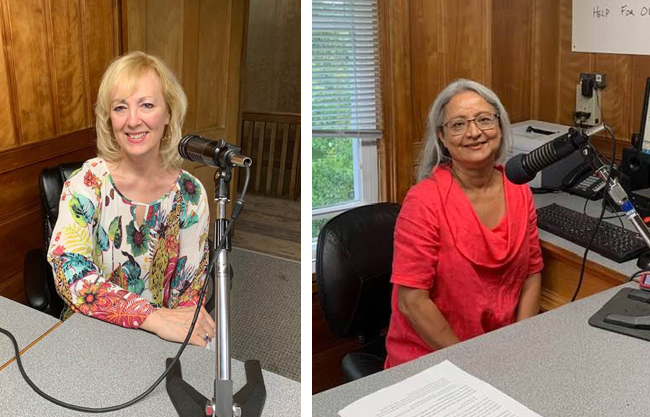 Probus Club Events
Cheryl recently was invited to speak at the Brampton-Centre and Pickering-Lakeside Probus Clubs.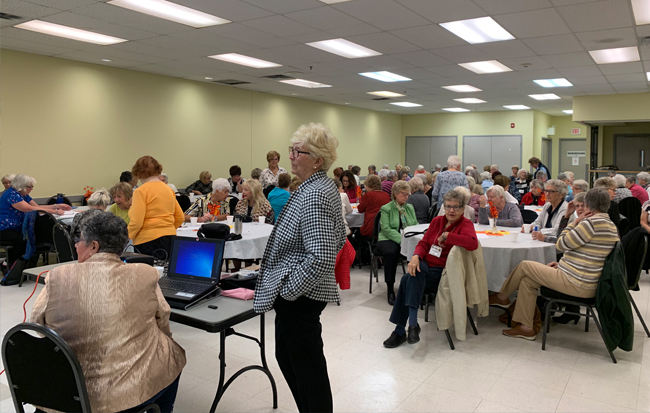 Settling in before speaking to the Brampton-Centre Women's Probus Club, October 9th.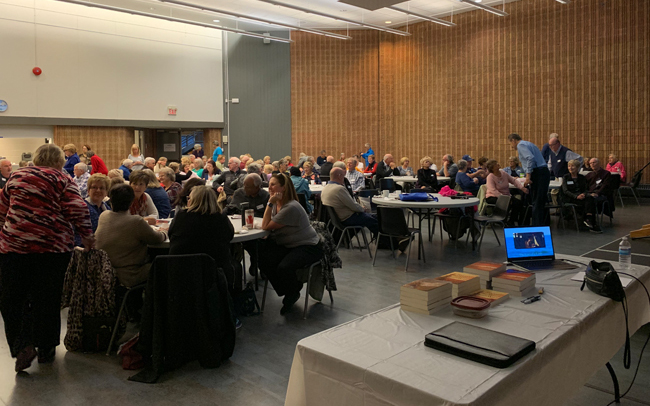 Setting out books and setting up slideshow before addressing the members of the Pickering-Lakeside Probus Club, October 16th.
Atlantic Crossing
Researching while crossing the Atlantic, September 2019 -- Copenhagen to New York City

Annual Muskoka Novel Marathon 2019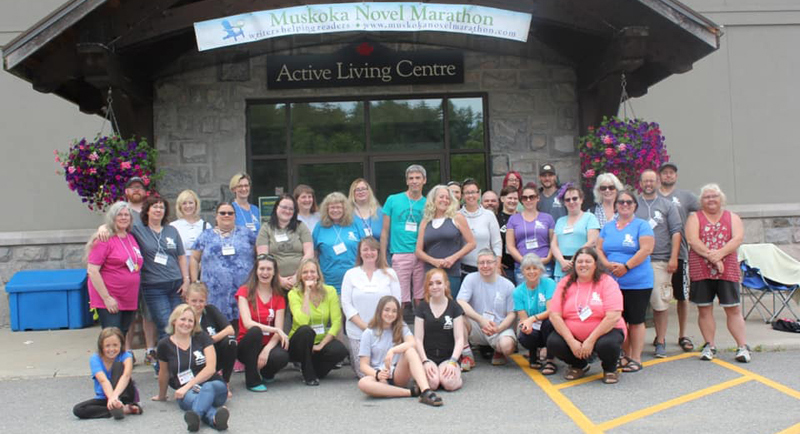 The 2019 Muskoka Novel Marathon is now in the history books! It was a wonderful weekend as usual, and the participating writers were able to raise $23,000 for Muskoka Literacy! From the bottom of my heart I would like to thank my fabulous sponsors: Muskoka Chrysler, Lynn Porter, Danielle Beaudoin, Colleen Anthony, Rosie Smith, Paul Burnham, Jeanette Farahbakhsh, Joan Eaglesham, my sons Evan & Brodie, and husband Randy! Bless you all!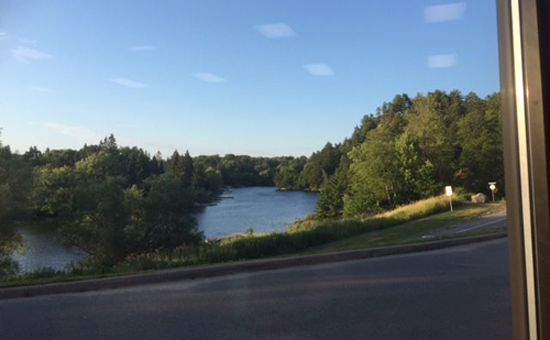 The Video below... this was the scene when all of the writers -- except for me -- were hard at it, attempting to create a novel in 72 hours!
Toronto Book Launch Event November 8, 2018
Toronto Launch of "Run Red with Blood" on November 8th, 2018 was held at Lynn Porter's fabulous home in Hogg's Hollow.

Interview on Hunters Bay Radio
For those of you who enjoy listening to the radio … here below is the link to the interview Cheryl did with Sue Kelly, host of "Sweet Spots" on Hunters Bay Radio 88.7 FM. "Inspiration behind writing novels set on the high seas during the Age of Sail, the Muskoka Novel Marathon and the life of a Writer!"

Muskoka Book Launch Event October 20th
On October 20th ... friends & family helped me launch "Run Red with Blood" ... novel #3 in the Seasons of War series ... at the Muskoka Highlands Golf Links in Bracebridge!!
2017 News and Event Galleries
---
2016 News and Event Galleries
---
End of August 2016: Writers' Retreat at Camel Lake, Beatrice, ON
Cheryl packed up the laptop and spent three days at her childhood cottage on Camel Lake with three "writerly" friends where she continued working on Novel #3 -- Run Red With Blood.
August 2016: Halifax & Chester, Nova Scotia
There was no time to visit the museums, but Cheryl enjoyed being by the sea again with family & friends, and sailing on the Halifax Harbour where scenes from Second Summer of War take place. The Historical Properties on the Halifax Waterfront are preserved warehouses that date back to the time of the Napoleonic Wars and War of 1812.
May 2016: Muskoka Family Focus Volunteers' Dinner
On the evening of May 12th, Cheryl was the keynote speaker at the Muskoka Family Focus Volunteers' Dinner at the Trillium Spa in Huntsville. Chair Ginny Kernohan thanked Cheryl and had her pick the winning tickets for the door prizes.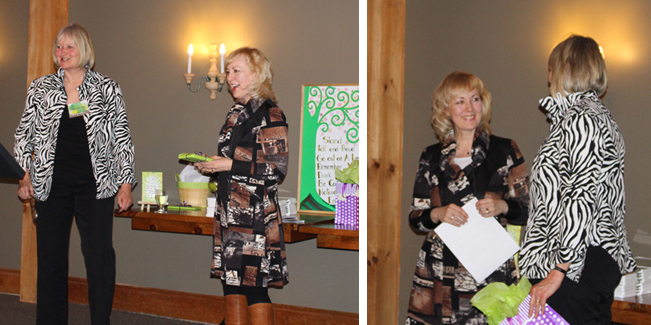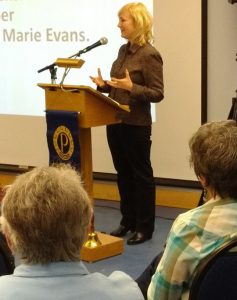 April 2016: Central Muskoka Probus Club
Cheryl's second speaking engagement of 2016 was at the Central Muskoka Probus Club.  A number of Cheryl's family members were in attendance.
April 3, 2016: Atlantic Cruise
Second Day of Cruising the Atlantic. No heavy seas, grog-laced sailors or enemy sightings ... yet!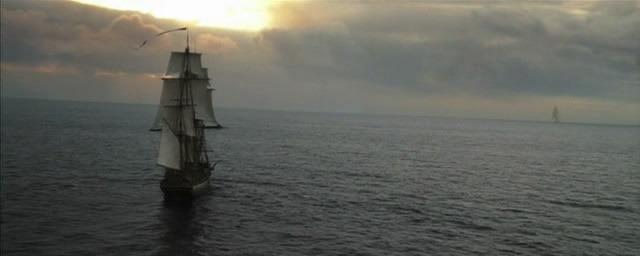 April 2, 2016: Atlantic Cruise
Cheryl embarked upon a Transatlantic Cruise, sailing from Ft. Lauderdale to
Southampton, England. It was a wonderful way to study the ever changing moods of the sea.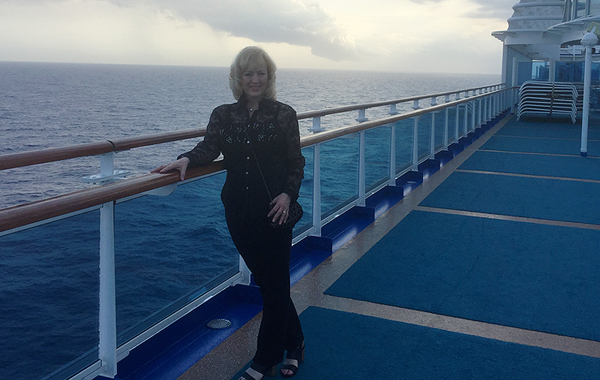 Events from 2015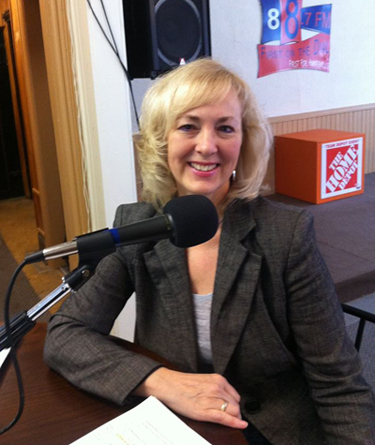 Hunters' Bay Radio Interview
Cheryl's final event of the year was an interview at Hunter's Bay Radio.
Interviewer Cheryl Stamper focused her questions to Cheryl on the commercial publication of her two novels; her speaking engagements; her writing routines; and her participation over the years in the Muskoka Novel Marathon.
Thank you, Cheryl, James, Barry & Jeff! It was great fun!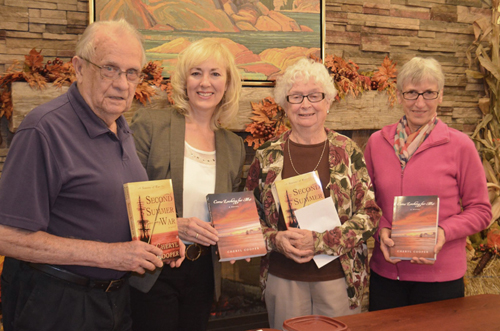 September 28: The Waterford
The picture left is from Cheryl's recent talk at The Waterford in Barrie where topics of discussion included the naval War of 1812 and English words and expressions that originated from life on the sea. Cheryl is standing with: Ray, Betty & Ruth-Ann, avid readers & lovers of historical fiction!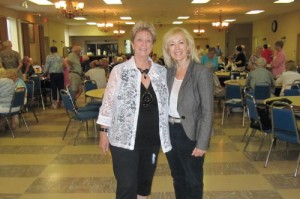 Orillia Probus Club, 2015
This photo was taken after Cheryl's speaking engagement at the Twin Lakes Orillia Probus Club, 2015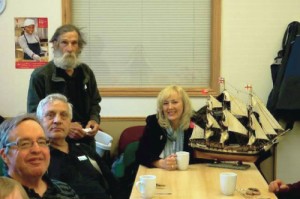 Adult Literacy Class, Huntsville
Cheryl with her model of HMS Surprise and an adult literacy class in Huntsville
Muskoka Novel Marathon -July 2015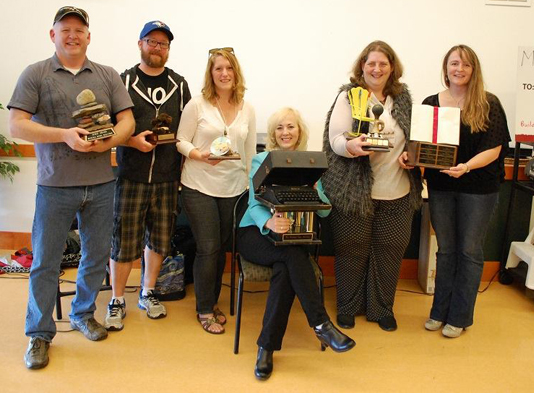 Cheryl was among the writers participating in the 2015 Muskoka Novel Marathon. The marathon is an annual 72 hour event held during the summer, it's goal is to raise funds and awareness for adult literacy in Huntsville. This year's event raised over $29,000.00.  Click here for related article.
Speaking Engagements & Events
The following images are from various speaking engagements and events in 2015 and 2014.
Toronto Book Launch 2014
The Toronto Launch of Second Summer of War at the home of Lynn Porter-Zechner in Hogg's Hollow on Thursday, May 29, 2014. Old friends, new friends, family members, fabulous venue, great food & drink, and a whole lot of fun!
Muskoka Book Launch 2014
The Muskoka Launch of Cheryl's second novel, Second Summer of War, took place on Saturday, March 29, 2014 at the Kirrie Glen Golf Course Clubhouse in Bracebridge, Ontario. It was hosted by Cheryl's cousins, Janet and Tye Burt.
Toronto Book Launch 2010
The Toronto Book Launch of Come Looking for Me was held on November 10, 2010 at Ben McNally's Books, Toronto
Muskoka Book Launch 2010
The launch of Come Look for Me was held on October 9, 2010 at Ballymena, the home of Cheryl's parents, on Lake Muskoka. There were over 300 fabulous guests in attendance that afternoon!
July 2016: LMM Museum in Bala, ON
One of Cheryl's favourite and most inspirational authors is Lucy Maud Montgomery, best known for her beloved Anne of Green Gables. Montgomery and her family enjoyed a 1922 summer holiday in Bala, and had their meals at Treelawn, the home that is now the museum. Her novel, The Blue Castle, was written for adults and set in Muskoka.

July 2016: Muskoka Novel Marathon
For the eighth time, Cheryl took part in the Muskoka Novel Marathon in Huntsville, a 72-hour event during which participants pen a novel and raise funds for Muskoka Literacy programs.