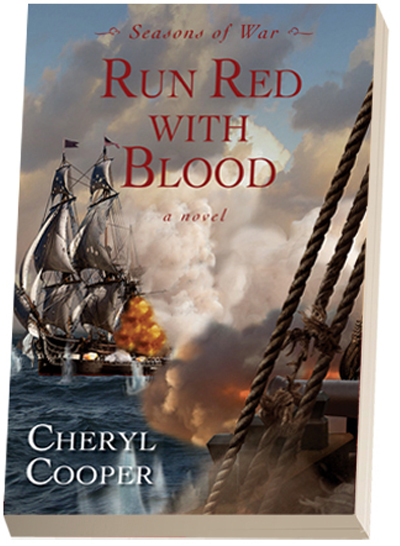 In late September 1813, Fly Austen, now a captain, is ordered back to the American coast as England's Royal Navy has suffered a series of humiliating defeats. Forced to return to sea with a skeleton crew, Fly persuades a reluctant Leander Braden to accompany him one last time. Emily, realizing the plan is to leave her in Portsmouth with Leander's aunt, disguises herself as a man and steals aboard Fly's frigate, where she is tormented by his passengers.
Meanwhile, young Magpie is captured by a press gang and hustled aboard a hostile ship, only to find himself in the dangerous company of Thomas Trevelyan, the English traitor who escaped incarceration on a prison hulk. A shipwreck, a mutiny, and a bloody encounter with American ships on the Atlantic inflict devastating consequences on all.
---
Ordering a copy of Run Red With Blood online
To find out more about Run Red With Blood or order a copy click on one of the links below
Dundurn Press       Amazon.ca        Chapters/Indigo
---
Reader's Reviews
"Run Red with Blood is strongly cinematic and just as riveting as Cooper's earlier novels. Her beloved, colourful characters are there, playing their familiar roles and adding tension in all the right places. Cooper lets us feel the anxiety, the filth, the cold, and the rough camaraderie of the men, desperate to return to a more predictable life on land. Superbly and skillfully done!"
– Anne Millyard, co-founder of Annick Press, Toronto, ON
"Cheryl Cooper is a master of world-building. Reading Run Red with Blood, I felt like I was right there alongside the characters in the early 19th century. And the story! From beginning to end, it is a perfect combination of suspenseful, touching, funny, romantic, and exciting. Already I can't wait for the next book in the series."
– Paula Boon, Writer, Port Sydney, ON
Chock full of suspenseful adventure, colourful characters, and vivid settings, plus a generous amount of humour and romance for good measure, Run Red with Blood will keep you turning pages long after you should have turned out the lights and gone to sleep. Cheryl Cooper's meticulous research into and evocative interpretation of life during the War of 1812 will make you feel as though you're right in the midst of the action. A must read!
– Dawn Huddlestone, Freelance Writer, Huntsville, ON
Like favourite old friends, Cheryl Cooper's richly drawn characters return in Run Red with Blood. The third installment of Cooper's "Seasons of War" series continues the exploits and misadventures of Emily, her Leander, Captain Fly Austin and beloved Magpie, but it's the development of secondary characters – endearing scoundrel Prosper Burgo, steadfast cook Biscuit, and dour Miss Eliza Braden among others – that adds fresh layers. The author's research into naval history and period manners remains meticulous, and her ability to weave a tale, in turns rousing, heartbreaking and suspenseful, continues to charm us.
– Sonia Holiad, Freelance Editor, Toronto, ON
Cheryl Cooper does it again! Cooper spins another nautical tale as her heroine, Emily, embarks on an ocean journey filled with intrigue, love, loyalty and betrayal. Cooper's detailed research, colourful description and rich character development transports readers to life on the high seas…swabbing decks, gulping grog, hauling sails, falling in love and experiencing the perils of war in 1813.
From the first paragraph to the last word, the action never stops. It is obvious that Cooper had great fun writing Run Red with Blood. Land lubbers and seafarers alike are left wanting more.
– Cathy Kuntz, Cottage Wordsmith, Kelowna, B.C.
Keeping a book franchise fresh and non- formulaic can be a challenge for many authors. Cheryl Cooper in Run Red with Blood, the third book in her Seasons of War series, shows us once again that she is not just any author. In her vivid writing style, Cooper returns her delightful characters– both the heroes and the scoundrels –to the sea for another Atlantic crossing, one full of deception, intrigue, suspense and, often, humour. Demonstrating too her incredible knowledge of ship anatomy and sea battle methodology, she superbly conveys the bravery, fear, strategy and true human cost of war. Never far from the terror though are the matters of the heart, all imparted masterfully with authentic early 19th century dialogue. Together they create a captivating story, leaving the reader craving for the next instalment in the Seasons of War series.
– Lynne Golding, Lawyer & Author of The Innocent, Toronto, ON
As with her first two books, I was unable to put down Cheryl Cooper's third book, Run Red With Blood, and read it in its entirety, over a weekend. The author teased me with one tantalizing hook after another – compelling me to devour the next chapter (and the next).
The familiar favourite characters (along with a few new ones) from the first two books clashed and danced with each other as they expressed their passion for life at sea and for their shipmates. The author's solid research combined with her poetic descriptions made this book an interesting and joyful read.
There was no attempt to shy from the gritty reality of those brutal times, yet when artfully spliced with humour and compassion, it was handled with a surprising ease.
Adventure, suspense, history, colourful characters and most of all, a compelling story – this book has it all!
– Nancy Beal, Muskoka Creative Communications, Gravenhurst, ON
With her new novel Run Red with Blood, Cheryl Cooper has once again provided the reader with a compelling adventure. Our favourite characters from Cheryl's previous two books have returned, this time to face new challenges filled with the horrors and tragedy that push them right to the limit.
We see Cheryl's careful attention to historical detail not only in her characters but in the extreme conditions those fighting aboard these warships had to endure. This story is a powerful testament to the destructive and life changing nature of war.
Run Red with Blood is an excellent addition to Cheryl's Seasons of War series.
– Kevin Patterson, History Enthusiast and Web Designer, Holland Landing, ON